Main Content
The Unfairest of Them All
The Unfairest of Them All
Ever After High Series, Book 2
It's the aftermath of Legacy Day, the day when the students at Ever After High are supposed to pledge to follow in their fairytale parents' footsteps, and everyone is in a huff and a puff! Raven Queen,...More
It's the aftermath of Legacy Day, the day when the students at Ever After High are supposed to pledge to follow in their fairytale parents' footsteps, and everyone is in a huff and a puff! Raven Queen,...More
Available formats
-
Kindle Book
OverDrive Read
Adobe EPUB eBook
Description
-
It's the aftermath of Legacy Day, the day when the students at Ever After High are supposed to pledge to follow in their fairytale parents' footsteps, and everyone is in a huff and a puff! Raven Queen, daughter of the Evil Queen, has refused to sign the Storybook of Legends, rejecting her story—and putting everyone else's in jeopardy.




The Royal Apple White doesn't want to think Raven is being a rebellious pain, but Raven's choice means Apple might never get the poisoned apple, Prince Charming, and a kingdom to rule. Behind Apple stands the Royals, those who want to play by the book and embrace their stories. The Rebels, supporters of Raven, believe in breaking free from destiny and writing their own stories.




But when the chaos and rivalry land wonderlandiful Madeline Hatter in trouble, Raven and Apple must bring the Royals and the Rebels together to shut the book on their feud before it threatens to end all of their Happily Ever Afters once and for all.




Mirror, Mirror on the Wall...Who'e the Unfairest of Them All?




Don't miss Book #1, Ever After High: The Storybook of Legends!
About the Author
-
New York Times best-selling author Shannon Hale knew at age ten it was her destiny to become a writer. She has quested deep into fairytales in such enchanting books as The Goose Girl, Book of a Thousand Days,Rapunzel's Revenge, Newbery Honor winner Princess Academy, and Ever After High: The Storybook of Legends. With the princely and valiant writer Dean Hale, Shannon co-authored four charming children, who are free to follow their own destinies. Just so long as they get to bed on time.
Title Information
+
Little, Brown Books for Young Readers
Digital Rights Information
+
Copyright Protection (DRM) required by the Publisher may be applied to this title to limit or prohibit printing or copying. File sharing or redistribution is prohibited. Your rights to access this material expire at the end of the lending period. Please see

Important Notice about Copyrighted Materials

for terms applicable to this content.
You already have this title checked out.
×
Recommendation Limit Reached.
You have reached the maximum number of titles you are permitted to recommend at this time.
×
To recommend The Unfairest of Them All, complete the following information:
We respect your privacy. Any and all information collected at this site will be kept strictly confidential and will not be sold, reused, rented, loaned, or otherwise disclosed.
×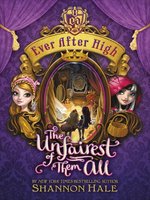 The Unfairest of Them All
Ever After High Series, Book 2
Shannon Hale
×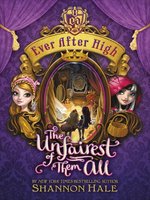 The Unfairest of Them All
Ever After High Series, Book 2
Shannon Hale
Choose a retail partner below to buy this title for yourself.
A portion of this purchase goes to support your library.
Clicking on the 'Buy It Now' link will cause you to leave the library download platform website. The content of the retail website is not controlled by the library. Please be aware that the website does not have the same privacy policy as the library or its service providers.
×